Discover more from Bits & Letters by David Demaree
Notes about whatever's living rent-free in my head — usually internet culture, tech, or business related, but sometimes Disney parks, keyboards, etc. Started as a self-indulgent Covid-era diary, now we here.
#4: Empty, living places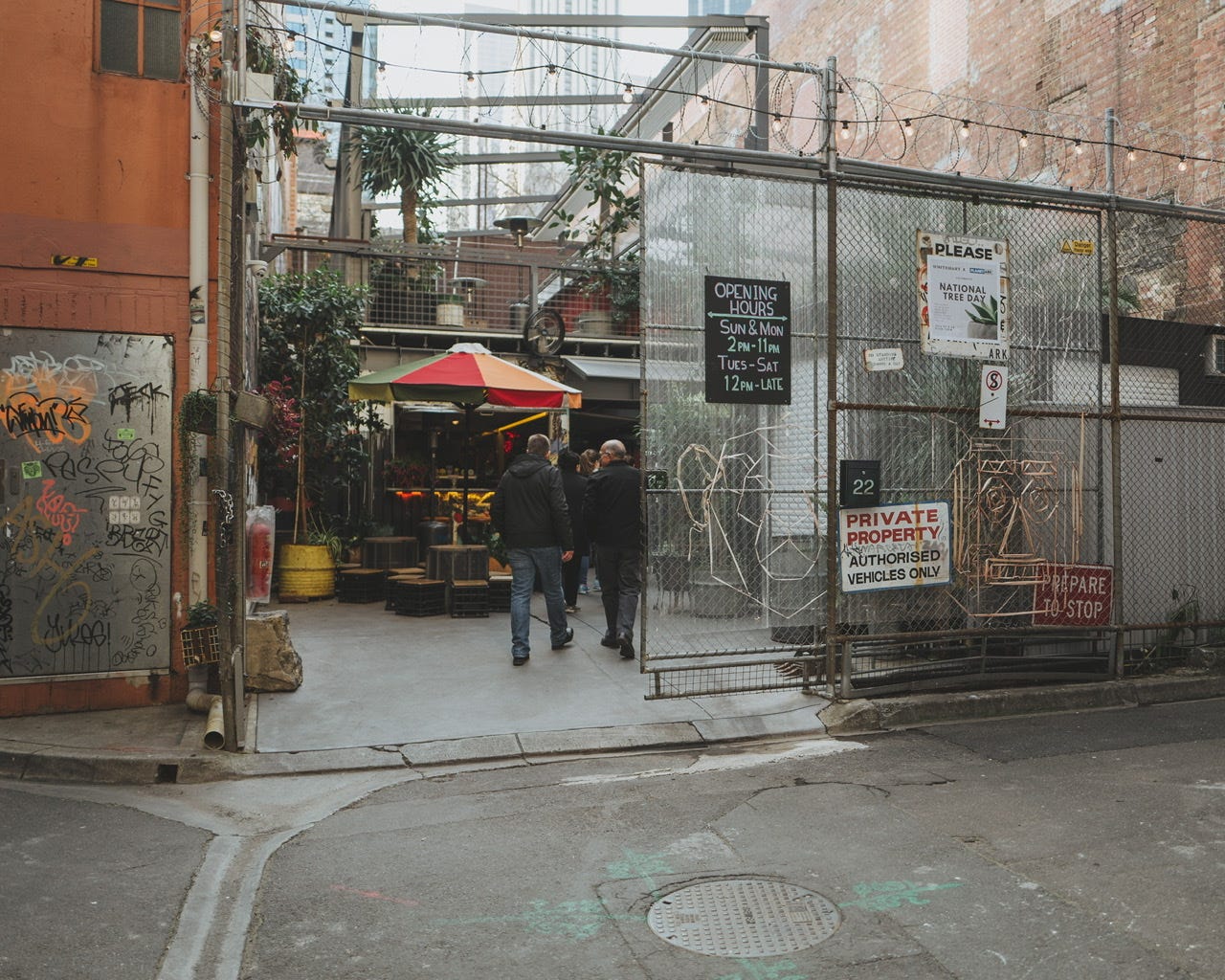 September 18-20, 2020 • Days 190-192
Hi everyone. Sorry, this one's a little ramble-y:
Since the start of all this, I've caught myself thinking about walking alone around neighborhoods in cities. Yesterday I remembered how much I love taking an afternoon/evening for last-minute Christmas shopping in SoHo, something I won't be doing this year for the first time in a few years. Another time, I was thinking about walking to a whiskey bar after a conference last year in Melbourne.
I've always had a thing for wandering around. In high school, instead of getting into trouble with other teens, I'd drive around Birmingham for hours listening to the local public radio station. City wandering is my favorite kind of wandering. In college, I walked almost four miles from a movie theater in Chicago's Lakeview neighborhood to my dorm in the Loop, and a few years ago I intentionally walked a similar distance to a (solo) dinner reservation in Kreuzberg, Berlin, from my hotel in Mitte, just to enjoy more cityscape.
In theory, walking around cities by myself should be doable during Covid — it's already socially distant, no reason I can't wear a mask, etc. But cityscapes are different under Covid and will change more now that colder weather is coming back. There won't be any cozy bars or coffee shops, or people darting in and out of shops.
What I'm feeling nostalgic about are empty living spaces, but what we have now are empty sick spaces. Visiting a near-empty Disney theme park sounds lovely, but visiting a Disney that's near-emptied by fear — of a deadly virus that local public leaders have no interest in stopping — does not. A quiet, calm Times Square could be magical unless the quiet is interrupted by the wail of ambulances. One of the first iconic images of the pandemic was Milan emptied by lockdown; it was beautiful and frightening.
---
This weekend, Justice Ruth Bader Ginsberg passed away. The Republicans didn't wait an hour before moving to fill her seat this year, before the election. They're nothing if not consistent. We didn't get any time to just grieve the loss of Justice Ginsberg before we had to move onto thinking about her seat on the bench, and what its vacancy means for the election and the future of democracy.
Throughout this year, the nihilistic circus that passes for politics in America has constantly — constantly — stomped on everyone's ability to grieve. There is simply no escaping "politics" here. Even the terrifying, factual statement that 200,000 Americans have died of COVID-19 has taken on subtext as a slogan condemning Donald Trump, largely because it is, but also because Trump and his supporters will only engage with it as a talking point. Either way, it's yet another way that loss has been erased, grief interrupted or denied, to make more room for suffocating, unbearable, fake "politics."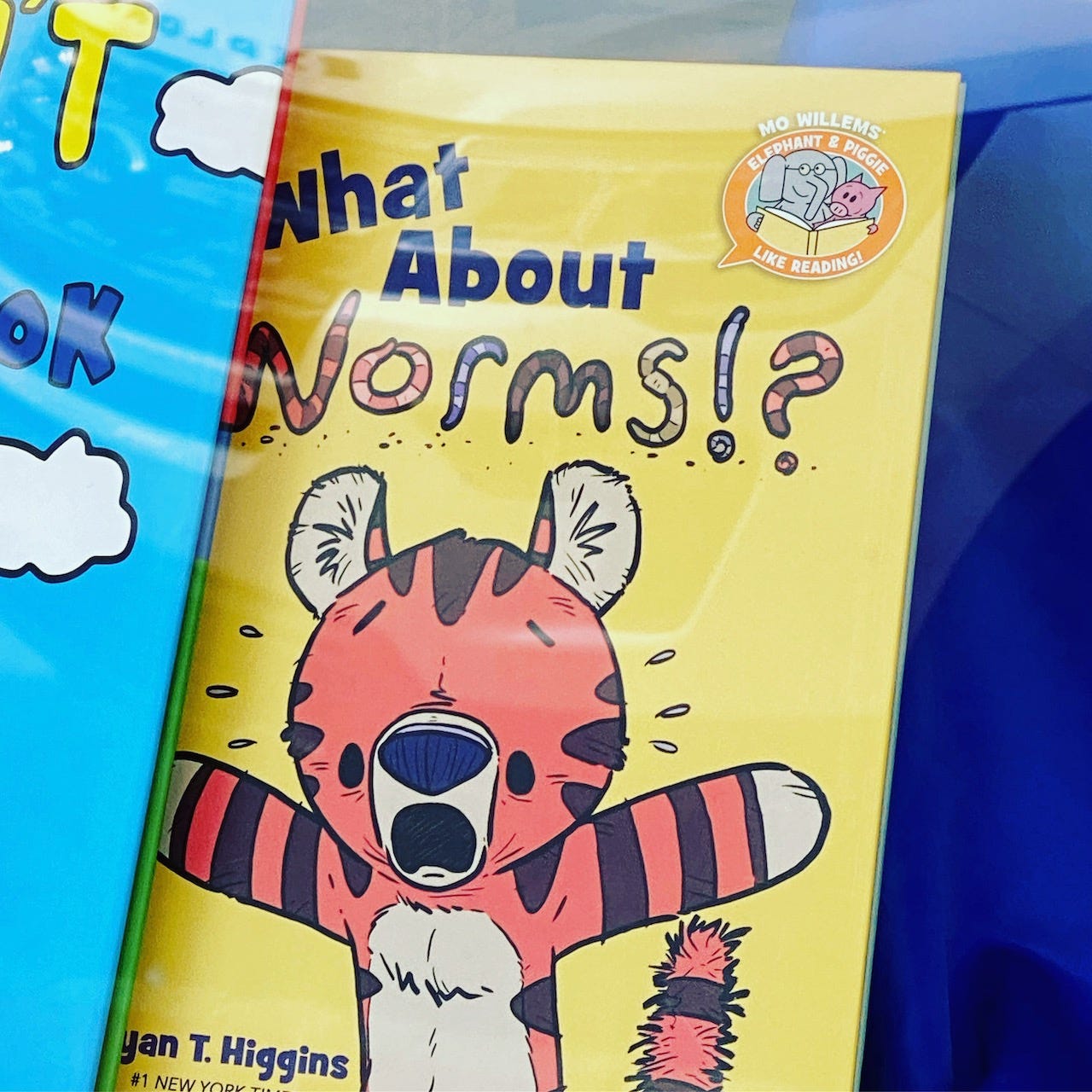 (Seriously, what about norms?)
As I copyedit I realize this would be a great place for a segue, perhaps also a callback to connect this section to the one before it. Here goes: the American civic sphere is another sick space, emptied out by a plague. We can't just mourn R.B.G., just as we can't appreciate the calm of unexpectedly empty streets and squares, because other stuff is going down that is overwhelming, terrifying, and uncanny. I'm old enough to (barely) remember a time when there would have been a week or more of public mourning, during which all self-respecting public leaders would have insisted it was too soon to talk about what to do with her seat. But America in 2020 has no patience for mourning, leadership, or self-respect.
I've been feeling like a lot of people (including me) have taken up armchair political analysis or armchair epidemiology as part of the 'bargaining' stage of grief — weighing the options, imagining scenarios of lesser or greater horror, to try to regain some agency. (If you are not a public health professional and spent any amount of time this summer thinking about "R(t)," "positivity rate," or the relative merits of antigen vs. PCR tests, surprise — you may have been bargaining!)
This year we've all had grief and loss, some of us more than we can handle. We've had to work through those stages, sometimes being at different grief stages for different things at the same time, with old wounds being reopened and salted so that acceptance never comes.
So, since it's impossible to fully process anything, I say it's OK to step away from doomscrolling and focus on some simple things you enjoy. Take a break; the bad stuff will still be there when you get back.
Right now is an excellent time to celebrate simple, decent things that make you happy, like this video of Chris Hemsworth crashing a morning news weather report. Not as a substitute for engagement or action, but as a reminder that the world is bigger than the worst thing that's happening in our feeds.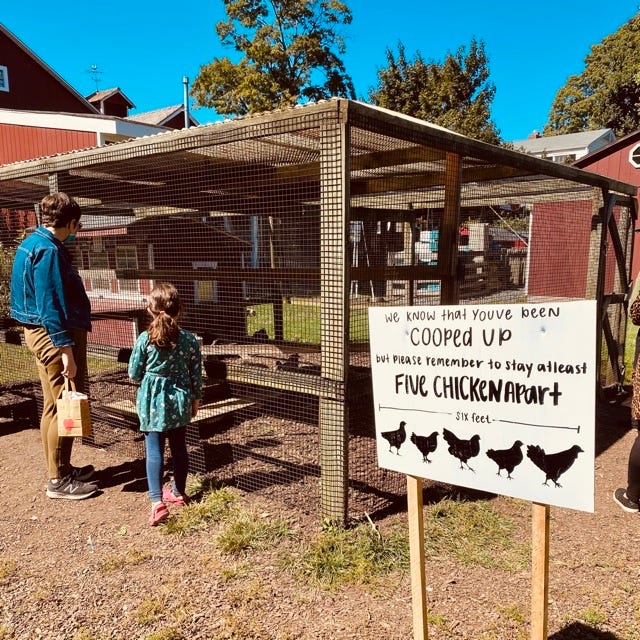 On Saturday my family and I went "apple picking," and like when we went on a socially distant vacation, Covid made lots of things different. We had to pre-book and schedule our entry time to the farm we like, had to wear masks while we were on the property, had to tell our daughter she couldn't snack on a candy apple while walking around because there was a prescribed mask-less dining area.
Also: no apple picking, because they'd moved the apple picking to another site, and when we got there, there was a long, slow line to get in due to Covid restrictions.
But we still had fun. There was a corn maze with "corn-y" jokes — for that matter, all the mask and social distance PSA signage were full of veggie puns — and the cider donuts were delicious.
Going on a long drive to a farm — the long drive and spotty cell service being a great excuse to avoid Twitter for the day — was a bit of an escape, not from our grief and fear, but all the other shit. On our day trip, we got to be worried about losing a great American figure, but not also trying to keep up with all the various-temperature takes and the sum of everyone else's bargaining.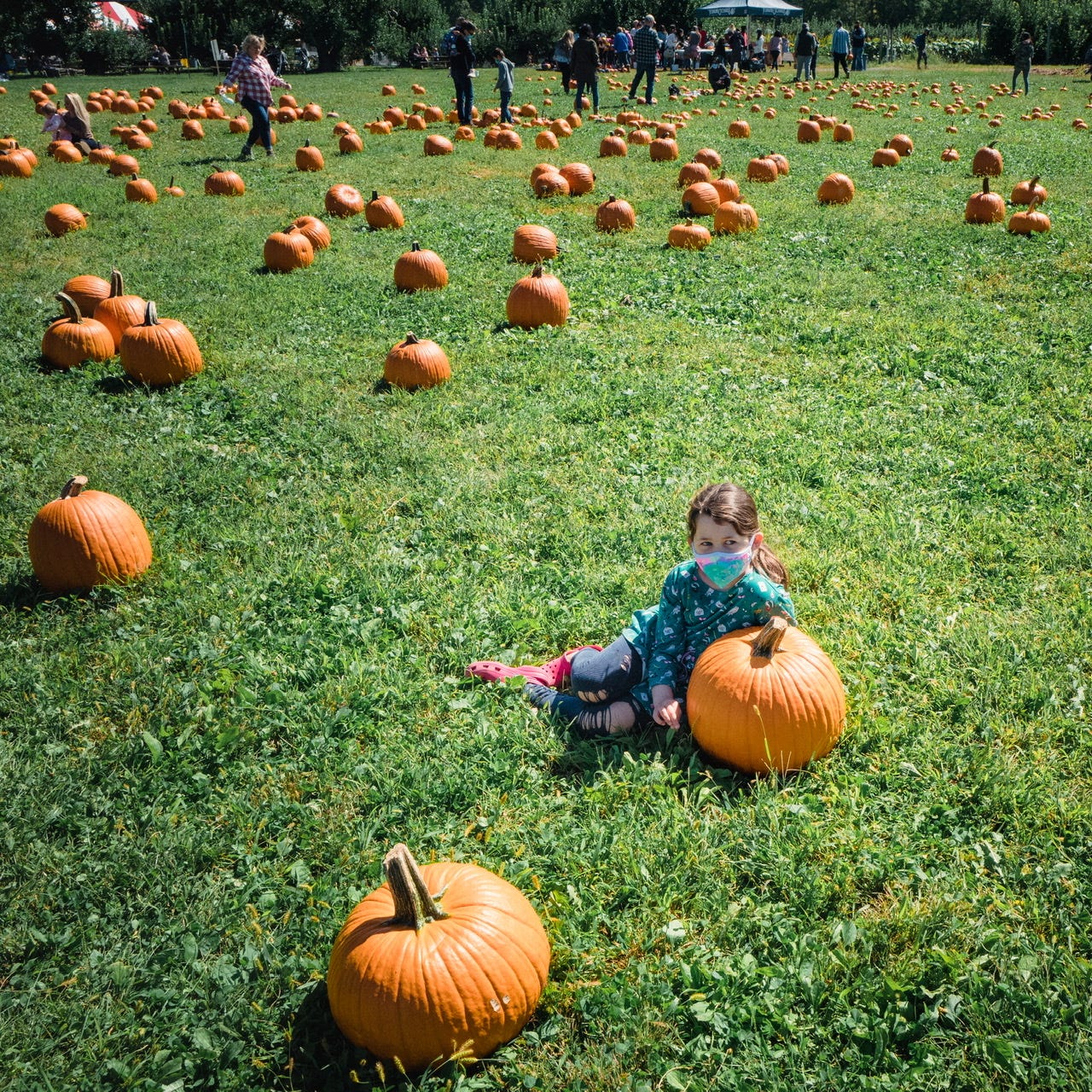 Having said that, while we were out we were wearing Biden-Harris campaign swag, probably to remind ourselves that politics is still happening and that voting will be doing something. When we got home, we donated some money to Senate candidates.
The grief is still interrupted. It's still hard to tell the difference between useful action and mere bargaining. But we do what we can, to try to stay not just alive, but living.
---
Drinking: Moving to Canada
I was still on antibiotics for most of the week, which was good not only because my eyelid is finally back to its normal shape, but because I could save all my drinking for the weekend when it was most needed.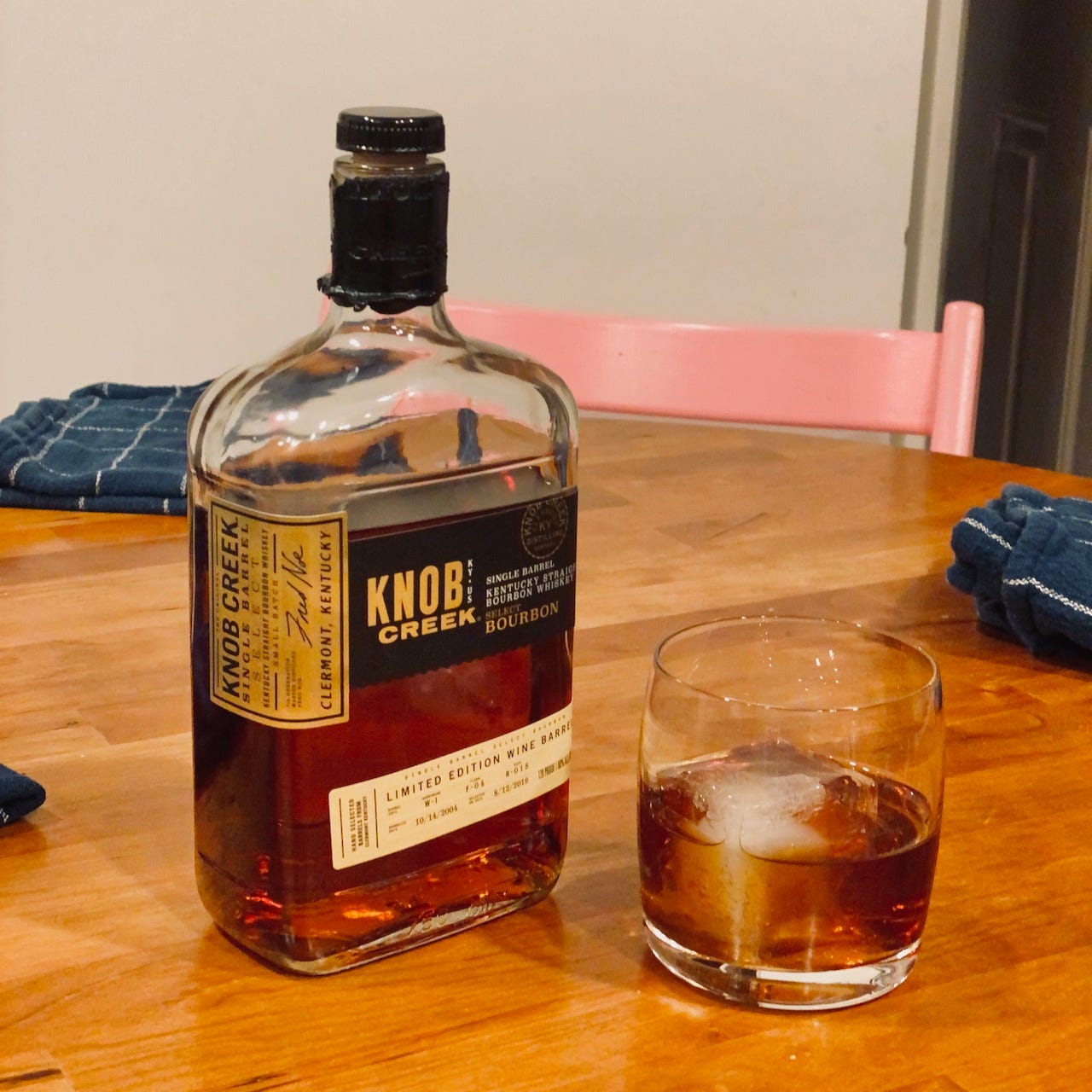 This week's drink is the Toronto, which is a classic enough cocktail to have its own Wikipedia page, yet one I hadn't had before Covid.
The Toronto is said to be the most legitimately popular (as opposed to San Francisco-popular, sorry not sorry) drink that has Fernet-Branca in it; I think it manages that because the Fernet is more than canceled out by simple syrup. The recipe is essentially an Old Fashioned (whiskey, bitters, syrup), plus Fernet, served up instead of on the rocks:
2 oz rye whiskey, the spicier, more high-proof the better. (I did not have rye, let alone Canadian rye, so I substituted a rye-forward, 120 proof reserve bourbon.)

0.25 oz Fernet-Branca

0.25 oz rich Demerara or simple syrup

2 dashes Angostura or other aromatic bitters
For my first attempt, I made a Toronto by the book (specifically Meehan's Bartender Manual). For a second try, I changed some things around. Because this is an Old Fashioned variation I stirred it without ice and served it on the rocks, and because the recipe calls for an invert sugar and is named after a city in Canada, I replaced the simple syrup with — yes — fucking maple syrup. Generally, this worked: the maple was a bit much, but being a sucker for a Fall-themed novelty whiskey cocktail, I can tell you it could be a lot worse.
---
Quick program note: if you're into Apple product event commentary, you might enjoy my Medium post reacting to last week's Apple Watch/iPad launch. As I say in the post, it's legit comforting for Apple to release some fairly basic updates to their two most basic products (though they can't be that basic since Apple Watch Series 6 is now already back-ordered until November).
Stay strong,
—DD